Many states have legalized hemp farming, but are having difficulties setting up the infrastructure, due to the fact that it is STILL ILLEGAL on the federal level.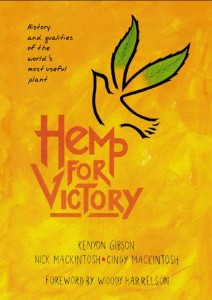 Please help us change the federal law to legalize growing industrial hemp!
Follow the steps below to be eligible to win a copy of Hemp for Victory by Kenyon Gibson, with a foreword by Woody Harrelson. Or you can also email it to 10 friends, and copy us on the email. info@minawear.com
1. Please sign the petition here:
http://signon.org/sign/legalize-hemp-farming
2. Copy and paste this post to your facebook page.
3. Like and post to our http://www.facebook.com/Minawear page why you think industrial hemp should be legalized.
We will randomly choose the lucky winner on October 15th, 2014 and notify you through Facebook.
Minawear Luxury Hemp Loungewear thanks you for your participation!