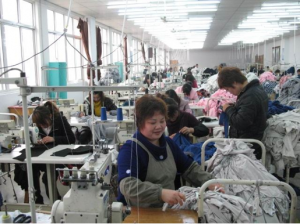 I understand your concerns about Chinese made goods, and I would like to address them.  From the beginning Minawear has been a process of education; first in 1998 about hemp and its amazing qualities as a textile, and now that we manufacture in China, about the changes in the labor laws and the evolution of the "Fair Trade" certification process.
We choose to manufacture in China because it is the only place that grows and processes the highest quality of hemp knits that Minawear is known for. In the long run, it also reduces the carbon footprint to manufacture all in one region.​
I want you to know, that although there is no "Fair Trade" certification as of yet for apparel in China, we are making great strides to promote fair trade practices in the factories that our goods are produced in.  Many factories that our producers use are WARP and BSCI certified, but garment factories at this point have no equivalent.
Minawear employs a full time production manager who oversees the phases of each production to ensure that our standards are being met.
The hemp is grown on small family farms in the mountains, with no chemicals.  It is then brought down to the plant in Shanxi, to be processed.
At the processing facility, any chemicals utilized must be booked on the Materials Safety Data Sheet, (MSDS) and disposed of responsibly. The standards employed here are in fact stricter than US standards, and are regularly tested.
In 2008 The Ministry of Human Resources and Social Security of the People's Republic of China, began implementing stricter regulations in Chinese labor laws that has increased manufacturers end costs, but improved the factory workers life considerably.  These laws include requiring paid maternity leave, retirement at age 50 to 60, health insurance paid for by the factory, overtime pay and better minimum wages.  There is no child labor or forced labor permitted.
Our factory pays its workers about 3 times the national minimum wage, and maintains safety and cleanliness better than most factories I have personally seen in Los Angeles.
We have been working in close communication with our factory and production manager to steer each phase towards the greenest, safest and fairest practices possible.   Our solution is to provide as much information and transparency as possible.
In order to better educate our customers about our process, we will be at the GreenFestival in Los Angeles this coming October 19-20th along side our production manager, and the factory owner, who can tell you first hand what we do over there. We invite you to visit our booth # 436.