Growing up in a beautiful place like Santa Barbara, CA has surely had its effect on those lucky enough to experience it, and like it has with me, surely it has done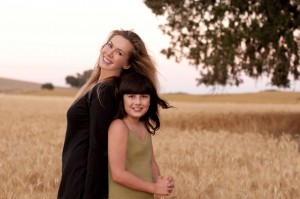 so with my dear Jr. High BFF Inga Tritt. In the twenty odd year gap that we had not seen each other, we reconnected to learn that we had each taken a similar path in our lives. Not only do we have one daughter each, but we have also cultivated businesses in the organic industry. Inga's invention's are practically delicious (you totally could eat them!) body products for babies and up.
Original Sprout
Body Products sprouted in 2003, from Inga's career as a master stylist, her love of nature, and her new found motherhood. Here is Inga and her daughter Maya today near their home in San Luis Obispo, CA wearing Minawear Hemp Dresses!