This weekend Minawear exhibited at JamFest, here in Victoria, TX, alongside good buddies the Dirt Nerds Ceramics Club, of Victoria Community College.  With 30+ MPH winds, its always a challenge to set up a booth that wants to take off like a sailboat with everything in it, but with the help of my friendly neighbors, we battened down the hatches and hoisted the mainsail Minawear sign to end up doing pretty well out there.  Besides the great crowd, and the
flash mob
, the other best part of the festival was the music, which Debra Chronister (my ex-ceramics teacher) and I jibbed and jived to the minute the main stage was occupied. 
Hector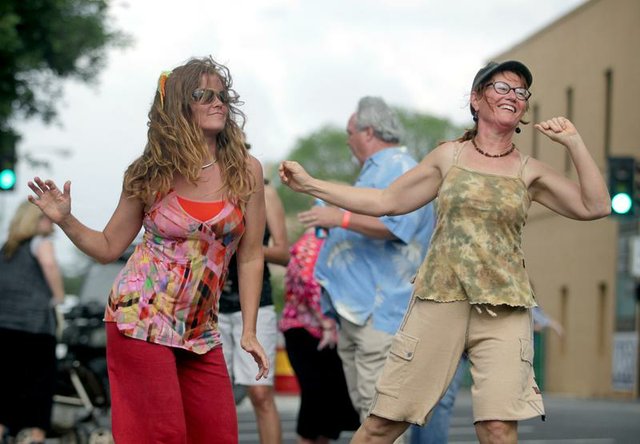 Ward and the Big Time
tore the roof off the mother with the horn section and the latin flavas, while
Jason D. Williams
, son of the legendary Hank Williams, blew the doors off with his piano hammering rockabilly rowdy-ness.  I think a few keys flew off that keyboard when his
boot slid
down it... At 10PM my seven year old finally turned into a pumpkin, and the last thing I saw up there was a crowd of dancers on the stage with Debra in Minawear smack in the middle shaking a tail feather.  I woke up Sunday morning to this picture on the front page of the Victoria Advocate. Thanks for the Minawear plug
Vicad.com
!